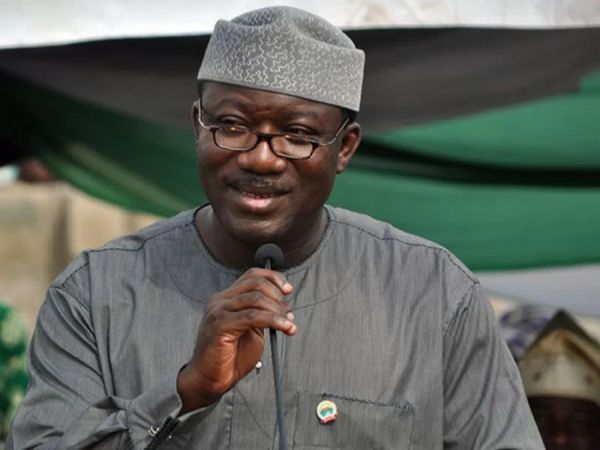 The national leadership of the Peoples Democratic Party has   rejected   Saturday's governorship election results in Ekiti State ,calling it daylight robbery.
Fayemi polled 197, 459 to beat Olusola of the  PDP,  who scored 178,121 votes.
Commenting on Fayose's victory, the PDP National Publicity Secretary, Mr. Kola Ologbondiyan, at a press briefing in Abuja on Sunday, alleged that the APC and INEC colluded to deny Kolapo victory.
He said
The PDP rejects the outcome and the results announced by the Independent National Electoral Commission of Saturday's governorship election in Ekiti State. It is a daylight robbery and it cannot stand," he said.
"As I said, the PDP rejects in its entirety the results concocted by the APC, INEC and security agencies, in the governorship election in Ekiti State and declared by INEC.
"The party rejects the falsified results and declaration of the APC candidate, Dr. Kayode Fayemi, to be the winner of the election, as a daylight robbery, a brazen subversion of the will of the people and direct assault on our democracy.
"From the authentic results flowing directly from the polling centres across the state, it is clear that the PDP candidate, Prof. Kolapo Olusola-Eleka, incontrovertibly won the election, with very comfortable margin over the APC candidate, only for INEC to allow the alteration of results at the collation centres.
"Painfully, the people of Ekiti State were pillaged, openly brutalised, confronted with the worst form of cruelty and intimidation from security agencies, and their mandate, which they freely gave to the PDP, was snatched at 'gun point' by enemies of democracy, who are parading themselves as icons of anti-corruption.
"Nigerians are witnesses to all manipulations by the APC, aided by security agencies and compromised INEC officials, to rig the election, particularly, the audacious alteration and substitution of election results in favour of the APC at the collation centres amidst the brutalisation of our agents."