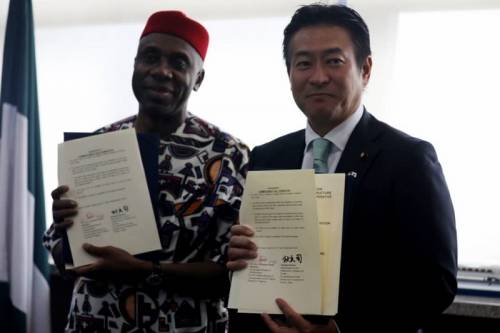 The Federal Government, through the Ministry of Transportation, has urged Japan to follow in the footsteps of their Chinese counterpart, and partner Nigeria on concessioning loans.
Rotimi Amaechi, Minister of Transport, stated this when he signed a Memorandum of Understanding with Japan to promote infrastructure investment and continuing cooperative relationship between both countries.
Stating that the concessioning loan interest rate falls around 1.5 per cent, he said: "we will be glad if the Japanese government can come in as the Chinese government has come in".
Amaechi signed the MoU with Japan's State Minister of Land, Infrastructure, Transport and Tourism, Tsukasa Akimoto at the Federal Ministry of Transportation, Abuja.
Speaking at the event, Akimoto, who was accompanied by Japan's Ambassador to Nigeria, Yutaka Kikuta, said: "As the State Minister in charge of infrastructure in Japan, I have been impressed that there is still a great deal of scope for Japan to co-operate on building the infrastructure in your country.
"As you all are aware, Your Excellency, Japan is putting in a great deal of emphasis on providing high quality infrastructure and in that respect, we are known in comparison to other countries such as China, Korea and European countries. If you look at the country's cycle of infrastructure developed by the Japanese, ours is the most cost effective.
"You are aware that in the past, there has been much discussion of Japan's cooperation with Nigeria in providing the other railway and development plan in Lagos Island, and we hope there will be more opportunities in the future for Japan to provide technical expertise and capacity building, and also to provide high quality infrastructure here in Nigeria."