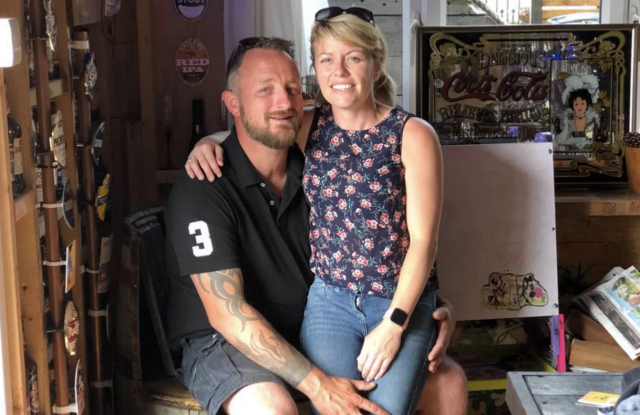 A British man's daring prank has gone viral after it ended with an eBay bidding war for his girlfriend.
Kelly Greaves told Canadian news outlet CTV News he "wanted to have a laugh" at his girlfriend's expense after she played an initial prank on him
"You know what? I'm gonna sell her," he said.
Listing Greaves as a "miniature collectible" on eBay, he described her similarly to a used car, including details of a "constant whining noise" and "a leaky rear," he included a disclaimer: "no serious damage but you can see she's been used".
He shared the ad with Greaves and the two "had a laugh" about it — but neither was expecting what came next.
A bidding war began – Leeks said his phone wouldn't stop buzzing from interested eBay purchasers.
"I thought, 'Oh no, what have I done?," he said.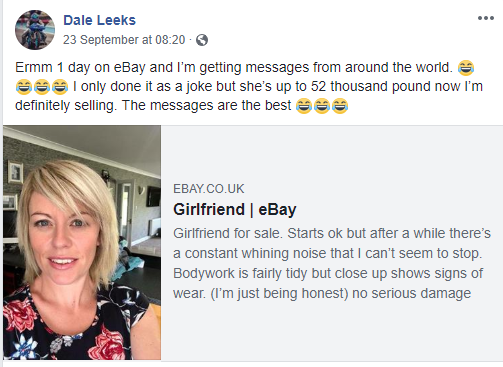 Within 24 hours, the highest bid was at $130,000 provoking some stunned reactions.
After more than 81,000 views, the post was eventually removed by eBay due to infringing their policy against selling body parts and remains.
"They told me I couldn't sell a human being," he said.
Leeks said he hadn't expected the response the ad received.
"'I'm not going to lie, I would have been quite sad to see you go, but it wouldn't have been so sad, because I would have been crying in my Ferrari or my Lamborghini'," he told his girlfriend.