Before I dive into the story of why I am writing this,for the benefit of those that do not know where Ajegunle is,it is located in Apapa,Lagos state,the town is full of life,bubbling,OVER-POPULATED and lets just say as a "jjc (johny just come,a term used for novice or new comers)" try not to get on the nerves of the area boys or else well,that story will be for another day.
I woke up pretty excited on the 16th of October not just because I was going to join Dreams from the slum(an NGO) in celebrating World Food Day by giving food items to the less privileged but because I wasn't even sure at first if I would be able to go cause it was on a week day and for someone that does an 8-5 work routine you need an awesome boss to have that privilege which I do *smiling* . I decided to get ready as quick as I can which is rare because I am a certify late-comer but wanted it to be different. I was about to enter the bathroom when my neighbour reminded me of the fact that we agreed to take a cup of flat tummy tea I got from the supermarket three days back,which i agreed to and took a cup then rushed into the bathroom.
On taking my cloths off,I noticed that I felt like using the toilet real bad so I did,took my bath,dressed up,ordered a taxify and hit the road to pick up my friend debby.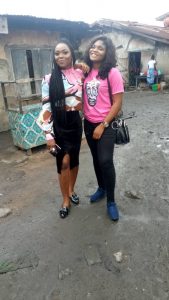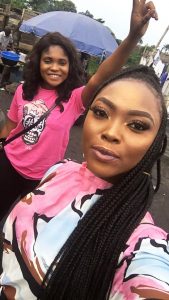 Mind you I stay in Ajah,Badore to be precise(if you see me on a bike or in a keke,holla at your girl),the taxify driver came and we started our trip,on getting to phase 1 where I was supposed to pick debby,I started feeling on ease like I wanted to use the toilet again "aaahhhh egbami,who did I offend?"
The whole thing was just playing Nepa light mood with me,one minute I am cool,the next minute I felt like I would release on myself.I got through to debby,we continued the journey,heading to Apapa because we were almost against time.I managed to survive the whole 1hours journey of traffic,bumps and my tummy trying to kill me.The traffic before the boundary roundabout was just too much that we had to ditch the taxify driver and took a bike directly to our destination.
On getting to our destination I met Isaac( the brain behind Dreams from the Slum) did I mention that this is actually not my first visit,so I know how ghetto it is.We exchanged pleasantries and I looked at him and said " isaac,I need to use the toilet"
He looked at me and the first thing he said was "aah" then he asked "major or minor" and I mouthed "MAJOR" boldly (mind you for a lady to says such to a guy,you need to know how urgent it is)
He turned looking like he was looking for something then said there is no toilet here,he pointed at some bamboo hut setting that was built on water and said that is the only toilet they have there,I wanted to die,the urge increased then he looked at me and said "except you can walk down the road to an eatery,its called perfect delicious that is the only place you can get a proper toilet setting"
You need to see the joy on my face,I grabbed debby and we started the 15 minutes walk journey,after asking people for directions and walking the whole 15 minutes ,lo and behold,perfect delicious stood in front of me in all its glory (yes I AM DRAMATIC LIKE THAT) .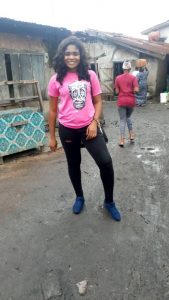 Then I had to put up an act of trying to buy a snack or two before asking where the restroom was,you needed to see the big padlock used to guard the toilet,I can understand why they did that,people will definitely try to take advantage . After using the toilet(don't ask me for details) I felt like a new creature "ooh Lord",I refused to take any drink,food or anything at all,wasn't ready to be in that position AGAIN.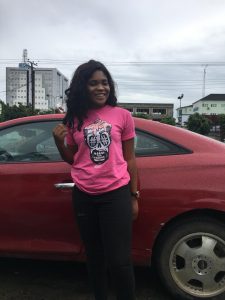 I can't tell what triggered the whole upset but I strongly suspect the tummy tea but oh well now I know better.My Ajegunle experience will never be forgotten and did I forget to mention I was born here in Ajegunle. Click  to read more on the outreach