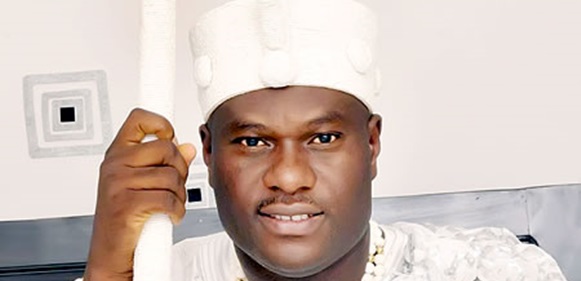 Ooni of Ife, Oba Adeyeye Enitan Ogunwusi,  Ojaja II, has revealed that he was never really single, as he has a permanent Olori in the palace spiritually and was only joined to a new one physically who happens to be a prophetess and evangelist.
He speaks with KORE OGIDAN on his life in the palace and other issues
Excerpts
As a kid, did you always know you would end up being a king?
The prophesies came before I was born. Also, kings are actually born, not made. In my case, before I was born, it had been predicted that I would be king and to God's glory, that prophesy stood and came to reality. There are many predictions and destinies that actually don't get fulfilled but thank God that mine came to pass. It was God who made mine to become a reality. I had been very conscious of it growing up. Also, before I became king, as a prince, I had been friends to many other kings. I had learnt the rope for many years before I assumed the throne.
You must have had a great birthday with your wedding just two days apart. Tell us about that experience for you.
I don't know why the whole world made a big deal about it. To the glory of God, marriage is one of the things that one should do. Honestly though, I was never really single. I have a permanent Olori in the palace spiritually but I just joined my new one physically. The permanent Olori in the palace is the Yeyemolu, who is the first Olori in the palace and she has a spiritual role to play in here. As a matter of fact, the Ooni can never be single because he permanently has a wife in the palace. Even if there is no woman in the palace, she, the Yeyemolu, is there always. Many people probably just thought I was single all the while. What I am going to say about my new wife is that to the glory of God, she is a good lady.
Knowing you were going to be king, were you spanked as a kid?
Of course! But they were advised never to touch or hit my head, even as a kid. But, everywhere else was beatable. I became very conscious of my head growing up.
What was your worst childhood experience?
When I got into secondary school at about age 11, there was a classmate of mine who beat me up one day by the classroom and gave me a very deep scar on my hand. The scar is on my left hand and it almost rendered that hand useless, especially for me being left-handed. Every time I see that scar, I remember the experience.
What other fond memories do you have of your childhood?
I used to win a lot of prizes as a kid and that always made my parents proud. Another memory was getting into Loyola College, Ibadan, and there is a story to that. I always came first in class in primary school. One day, I came third, losing to a boy and a girl who both came first. There was no second position and I came third. My parents were very disappointed and I promised them that I would finish well. When I went in to sit my common entrance examination, I came first in my entire primary school and with the tough competition there, I was able to enter Loyola College. I got in on merit. That made my parents proud and I was able to prove to them that I was still in control of the situation.
Even as a king, do you cook in the palace?
That is not even possible. As the king, you have to knock 16 inner and outer doors before you get to me. It's a big process and there are so many processes and procedures that I met from my ancestors before becoming king; so, no, I don't cook. However, before I became king, I did cook a lot and very well. My mother taught me how to cook.
Your regalia looks amazing. How do you really like to dress?
To the glory of God, my dress sense has to have a proper blend of spirituality and modernity. My dress sense must connote who I am as a spiritual head of the Yoruba race. Before Christianity or Islam, the Yoruba heritage and culture and tradition have remained intact to date and we didn't blend our tradition at all in Ife. There is a particular divination and spirituality we go through and I had to master them and see how to blend that with my everyday life. This is why my dress sense depicts what happens in Ife, and by extension, the Yoruba land.