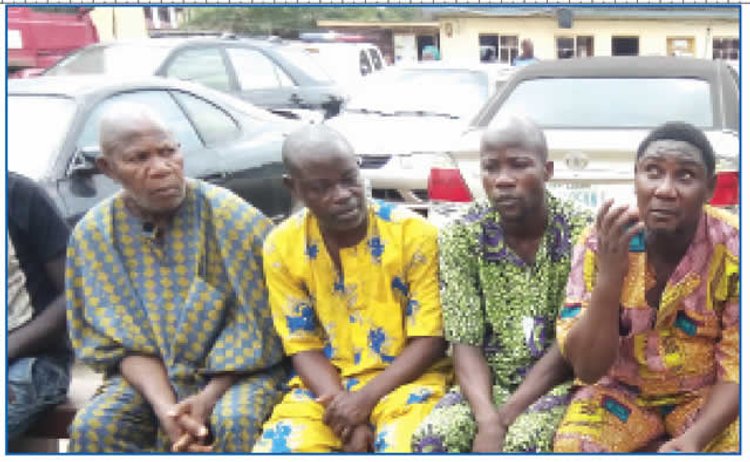 The Lagos State Police Command has arrested five men for allegedly conspiring to dismember the corpse of one Mary Ehinlaiye at Sabo Cemetery in the Ikorodu area of the state.
The Lagos State Commissioner of Police, Edgal Imohimi, during a press briefing on Friday.
Imohimi said,
"On Tuesday, November 20, 2018, the Command received a complaint from one Anthony Lawani, younger brother to one Mary Ehinlaiye, 51, now deceased, that body parts of the deceased were sliced off by yet-to-be identified persons.
"Based on the complaint, I directed the Deputy Commissioner of Police, State Criminal Investigative and Intelligence Department, Panti, Yaba, to investigate the matter.
"Preliminary investigation revealed that the corpse of the deceased was deposited at St. Raphael Divine Mercy Specialist Hospital Mortuary along Ijede Road for preservation.
"However, one Olusesi Owamade, 41, a mortuary attendant with the approval of his supervisor, Michael Olusegun, 65, erroneously released the corpse to another family.
"When the relations of the deceased woman came for the release of the corpse for burial, it was nowhere to be found. At this juncture, it dawned on the mortuary attendants that they had released the corpse to the wrong persons.
"To recover the corpse, the following grave diggers: Razaki Abesopiti, 50; Okeowo Kazeem, 46; Babatunde Giwa, 50; Ade Aliu, 43; Musiliu Yakubu, 56, working at Sabo Cemetery, Ikorodu, were contacted by the mortuary attendants to exhume the corpse for onward handover to its owner.
"At present, it is established that the aforementioned suspects conspired among themselves and dismembered the body of the deceased by cutting off the two wrists and heart for a yet-to-be determined reason."