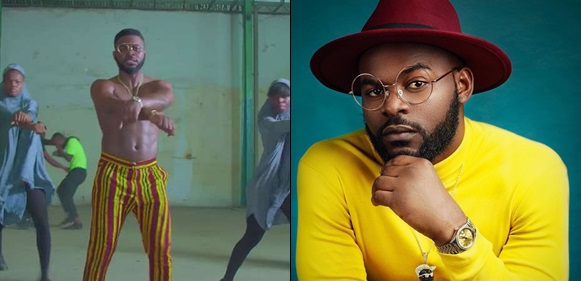 Folarin Falana, popularly known as Falz, has filed papers in court challenging the ban placed by the National Broadcasting Commission (NBC) on his song, "This is Nigeria".
The court documents were filed through Falz's lawyers, Adepetun Caxton-Martins Agbor & Segun (ACAS-Law), on November, 6, 2018, three months after the NBC sent a letter to JODAJ Global Communications Limited in Jos sanctioning them for playing Falz's song, "This Is Nigeria" and banning the song from being played on radio, along with other songs.
In the letter sent to JODAJ Global Communications Limited, NBC stated that the reason for banning This Is Nigeria is that the lyrics are vulgar and in contravention of the NBC Code.
A lot of Nigerians, including celebrities, criticized NBC for the ban, stating it was ridiculous, but the ban was upheld.
Falz had hinted in an interview granted in August that he would write to the NBC to seek a justification for the ban and if necessary, seek legal redress in the courts. He has now followed through on his words by taking legal action against the regulatory body.
The singer, who is also a lawyer, has taken steps in engaging his lawyers, ACAS-Law, to institute an action against the NBC challenging the ban.The Originating Summons reveals that Falz is seeking, among other things, for:
A declaration that the Defendant's prohibition of the Plaintiff's song titled "This Is Nigeria" from being aired by the Nigerian media outfits on the pretext that same is laced with vulgar lyrics is in flagrant breach of the Plaintiff's right to the freedom of thought, conscience and expression as guaranteed under Sections 38 and 39 of the Constitution of the Federal Republic of Nigeria, 1999 (as amended) and to that extent, such prohibition is unconstitutional, null and void.
An Order of this Honourable Court setting aside and/or vacating the decision of the Defendant as contained in the letter dated 6th August 2018 and lifting the ban or proscription of the use of the Plaintiff's song titled, "This Is Nigeria" by any and all Nigerian media outfit/organizations.
The sum of N100,000,000 (One Hundred Million Naira to the Plaintiff on the footing of aggravated and exemplary damages for the wrongful and unconstitutional acts of the Defendant.