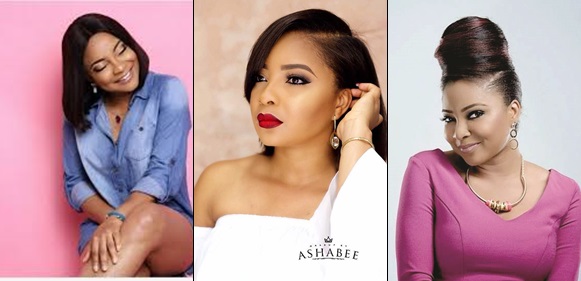 Linda Ihuoma Ejiofor is one actress many love to see in movies. It's not just because of her acting skills but also for her pretty face and charming personality.
Recently, Ejiofor's rating shot up dramatically when she and her Tinsel co-star, Ibrahim Suleiman, revealed that they were actually dating and would soon head for the altar.
In this chat, Ejiofor opens up on her Nollywood odyssey. Enjoy it.
When did you have your big break in Nollywood?
That would be 'The Meeting'. I got a call from Mildred (co-producer) saying that I got the role after my audition. I was proud, happy, excited and nervous. There were so many emotions running through my mind and body when I got the news.
Before The Meeting, did you ever play waka pass roles in movies?
Funny enough, no!
How did you get a role in Tinsel?
I finished university and I was like every other graduate waiting for the NYSC. I am an independent woman. I didn't want to rely on my parents for money, because I had siblings who were still in school and I wanted to take care of myself. I say 'thank you' to my parents for that because they brought me up well. I went out looking for job, modeling job to be precise, because I was modeling part time then. A friend of mine told me about the M-Net auditions, so I went for the auditions. One year later, when I was serving in Jigawa State, I got a call from M-Net saying that I got the role. So, after my two weeks orientation in camp, I came for the shoot and the rest is history. That was 2008.
How did you manage shooting in Lagos and at the same time serving in Jigawa State?
I was managing it well. Anytime I had a shoot, I would drive, I mean travel by night bus to Lagos.
While growing up, did you see yourself as a businesswoman, lawyer, doctor or any other vocation than acting?
First of all, I studied Sociology in University of Port Harcourt and I never saw myself as a doctor, lawyer or any other vocation, because back then, I was already a model. I wanted to work in an advertising agency. I saw myself being creative.
What's the transition into many characters you portray in different movies like?
The transition is always the same every time. Every time I am on a new set, it's the same feeling, because I don't know the people I am going to be working with… so I would always be nervous whenever I start a new production. I would always be nervous because it's a new character that I have never played. The roles are usually different from Ejiro in 'The Meeting', Halima in 'Soldier's Story' or the one I played in 'Rumour Has It'. Every time I get on set, I am always shaking.
Are you currently working on any movie?
I have a couple of movies coming out soon. There is an EbonyLife TV movie coming out in December entitled, 'Chief Daddy'. I have 'Knocking Out Blessing' which I am so looking forward to because I played a prostitute there. Then, 'Soldier's Story' part 2 will be out in December, and I also have a political movie coming out next year.
How did you get yourself into the prostitute character?
It is hard. It is really hard. As actors, we need a lot of time to fit into character. I had to go and watch movies of other people that have acted the character. I'm not talking about American movies but our own local content. I played the role of a prostitute in the movie, also a friend did a documentary on prostitution and that helped me as well. It was something that was cool because I had to speak Pidgin English, so it was good.
Don't you think people may mistake the prostitute character to be real life?
No, they wouldn't. People have always likened my real life character to that of Bimpe in 'Tinsel' but when they see me in real life, they notice that I am totally different. I am quiet.
Tell us about your career high and low moments?
The high moment in my career was 'The meeting'. The movie gave me the breakthrough after 'Tinsel'. My low moment, I cannot remember because my high moments always surpass the low moments.
What is the best thing that acting has done for you?
We hide behind a lot of characters. There are a lot of things that we would want to play out in person but we can't do. Acting has given me the opportunity to play different characters, and the fact that I can interact and pass information to people, in front of a camera.
What is the most embarrassing thing a fan has done or said to you?
One day, someone saw me and said, 'Hi Bimpe, so you are actually small in person', and I just smiled. Another person, now a guy, sometimes guys don't know how to hug and take pictures, he actually put his hand on my low waist. I had to tell him, 'guy, it's not there, please take your hand up'. You just have to set boundaries.
You've always maintained a clean slate in the industry, no controversy, how have you been able to do this?
I always remember the family that I come from. I always ask myself, 'would they be proud of me if I do this?' Even if bad publicity is also publicity, I just don't want it attached to my name.