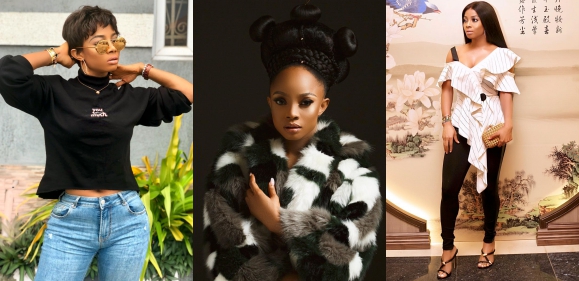 Toke Makinwa despite being one of the most successful women in the country wishes she had a man.
The beautiful multi-talented media personality made this know on her Instagram stories on Thursday, July 12, 2018.
"So at times like this guys, I wish I had a man to get home to just kick it with and just chat about, and at other times I grab the remote control…tv," she said. Guys, Toke Makinwa is one gorgeous and talented woman and we wonder why you aren't shooting your shots!
Toke Makinwa keeps giving hints that she would be an amazing wife and mother only if the right people can see this. Recall a few weeks ago she shared the qualities she posed which would make the best wife and mother ever.
Back in June 2018, Toke Makinwa shared her qualities her future husband would be proud of. The beautiful and multi-talented media personality made this known via her Twitter page on Wednesday, June 27, 2018. According to Toke whoever marries her is going to be proud of her.
"Whoever I marry, you gon be so proud of this baby girl, you'll bless God daily for the warrior he's blessed you with. A cornerstone, her spirit is undefeated, her soul is gold. From that orphan girl to Queen," she tweeted. She didn't end it there, she went on to reveal what her future kids will call her. "My kids will call me blessed," she concluded.
Toke Makinwa has shared the kind of man she would love to have in life and you've got to see the qualities. The media personality took to her Instagram page on Wednesday, April 18, 2018, where she shared three things she desires in her own kind of love story.
"This made me smile  I want that kind of love. A very good friend (male) shared 3 things to look out for in a good man with me very recently and I need the guys to jump on this one. did he sell you out or is this for real???
"1. A man must have a healthy fear of you. He must have the fear of losing you, that is very necessary to keep him from doing stupid ish. 2. A man must wake up every other day and feel undeserving of you, that's what will make him work to keep you like he must feel, how in the world did he get so blessed or he must have done something good to have you in his life.
"3. A man must respect you. Simple!!!! Is it really that simple? Is this true??? I need the OG's to answer this one. What advice will you give your future daughters? Sisters? Are you the kind of guy you'll want your daughter to date??? Question that wants answer," she wrote.
Well eligible guys who think they have met these requirements why not holla at Toke Makinwa, you just might get lucky.