Nollywood actor, Jim Iyke shared a post some hours ago, explaining why he has time to slam any troll that attacks him on his IG page.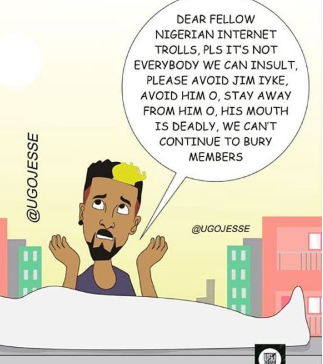 Posting this picture above which was sent to him by his sister, Jim wrote
"MY SISTER SENT ME THIS LOL!
IN MY DEFENSE, IM TOTALLY CONSUMMATED WITH MINDING MY LANE AND I DARE SAY ITS THE STRONEST CORE OF MY BLESSINGS.
IM NOT ONE TO COMMENT NOR REPLY TROLLS ON PUBLIC PAGES COZ I NEVER VENTURE OUTSIDE MY SCOPE. I NEVER LOOK EITHER WAYS AT WHAT ANYONE ELSE IS DOING. IVE NEVER DISRESPECTED A FAN OR CRITIC THAT MAKES A CASE OF DISAGREEMENT ON MY PAGE REASONABLY.
IVE BEEN KNOWN TIME AND AGAIN TO BOW TO SUPERIOR/ LOGICAL ARGUMENTS ON SUBJECTS I RAISE OR POST.
THIS IS MY PAGE. I CREATED IT SHAPED STRICTLY AROUND MY LIFESTYLE AND PRINCIPLES. AS A SOCIAL MEDIA USER, ITS MY FUNDAMENTAL RIGHT AND DISCRETION ON HOW I CHOOSE TO RUN IT. IF ONE DOESNT AGREE ONE HAS THE PREROGATIVE TO MOVE ON, BLOCK OR STATE ONE'S CASE WITH DECORUM.
I THINK WE CAN ALL AGREE THAT TURNING THE OTHER CHEEK IS NOT MY STRONEST PRINCIPLE.
THOSE IN GLASS HOUSES MUST UNDERSTAND THE RIPPLE EFFECT OF THROWING STONES. I COME FROM A HOME WHERE WE THROW GOOD HEARTED SHADES AT EACH OTHER WITHOUT AN IOTA OF MALICE OR OFFENSE.
YOU SHOULD SEE US GET INTO IT SOMETIMES LOL.
MOST TIMES, THESE EPISTLES LEAVES ME LAUGHING UNCONTROLLABLY. THIS IS IG! ITS VIRTUAL REALITY. ITS SUPPOSED TO BE ENTERTAINING AND SURREAL.
PEOPLE GET ON IT WITH THE SINGULAR INTENT TO BE OBNOXIOUS. I DIDNT CAUSE YOUR FAMILY PROBLEMS. WHY Y'ALL SO MAD THO! ?
MY INNER CIRCLE KNOW ME BETTER; IM A GOOFBALL! WHEN YOU GIVE, BE SURE YOU CAN RECIEVE IN GOOD MEASURE EXCEPT YOU HAVE ULTERIOR MOTIVES. PLAYING THE VICTIM AND ACTING LIKE THE INTENT WASNT TO INSULT OR DEMEAN IS REALLY THE CRUX OF THESE MATTERS VEERING SOUTH OFTENTIMES.
IM JUST A FUNNY GUY THAT IS READ IN THE WRONG CONTEXT FREQUENTLY.
I TRULY LIVE ABOVE IMPRESSIONS AND OBSTREPEROUS NOISE.
NOW, CAN WE ALL JUST GET ALONG?! ????
#HARVPAPA #GLADYSBOI #STYLEPIPER#TROLLCHRONICLES