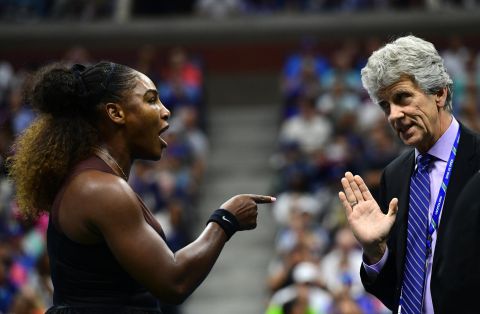 A cartoonist is facing calls to apologise for a 'racist' depiction of Serena Williams facing Naomi Osaka.
It shows Serena Williams, 36, as a petulant child jumping in the air with a smashed racket on the ground, with a dummy lying on the court next to her.
Her opponent, who is Japanese with Haitian heritage, is pictured as white, blonde, and tiny in comparison to the 'disgusting' caricature of Serena Williams.
While Williams is shown having a tantrum, Osaka, 20, is seen reasoning politely with the umpire who asks, 'Can you just let her win?'
You manage to be racist on several different levels here, not only in how you depict Serena, but also in erasing Naomi into a skinny blonde,' Ian Rose wrote on Twitter.
Serena Williams was fined £13,000 for coaching, racquet abuse and for verbal abuse aimed towards the umpire after she called him a 'thief' and a 'liar' during her US Open final defeat to Naomi Osaka on Saturday..
She used her subsequent post-match press conference to call her initial penalty 'sexist', saying a man would not have been treated in the same way.