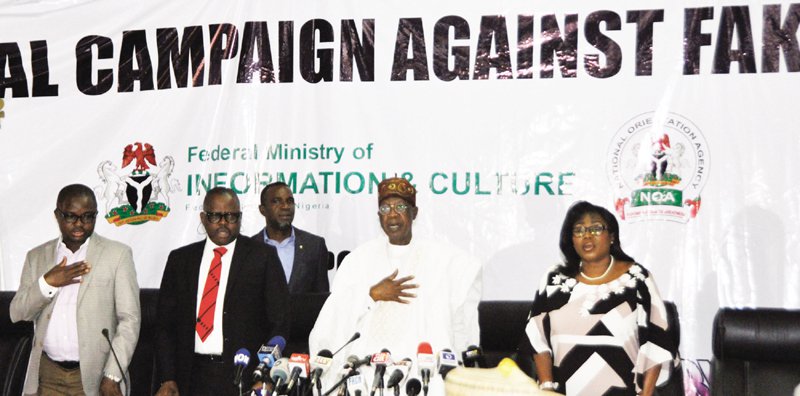 The Federal Government yesterday launched National Campaign Against Fake News, advising Nigerians to be vigilant.
But the Minister of Information and Culture, Alh. Lai Mohammed, said the campaign would not lead to press gag or media censorship.
He said:
"There is an epidemic sweeping the world. If left unchecked, it could be worse than all the plagues that the world has recorded put together. It is a clear and present danger to global peace and security. It is a threat to democracy. It is the epidemic of Fake News. Mixed with hate speech, it is a disaster waiting to happen.
"For the media, the epidemic is even worse. This is because fake news, in most cases designed to misinform, undermines confidence in the media. And once the people lose confidence in the media, the

society is in trouble.

"Let's be straight. Fakes News is not new. It is said to be as old as the printing press. What has made it an issue of concern is the means and speed at which it is now spread around the world, and that

means is the social media.

"Anyone with a phone and internet access can author and make fake news go viral in minutes. With the number of mobile phone users in the world expected to pass the 5 billion mark by 2019, you can see the kind of crisis we face.
Mohammed explained why the government decided to launch the campaign now in the country.
" For those who may not know, we have been calling national attention to the issue of fake news, misinformation and hate speech since 2017.
"We even organized a special National Council on Information on the issue of fake news, misinformation and hate speech in Jos in July 2017. And at a conference for media handlers of state governors, in Abuja in 2017, we warned that fake news and misinformation could pose a threat to the 2019 general elections.

"Unfortunately, instead of abating, the fake news issue, which became a global phenomenon in the wake of the 2016 US election, has grown worse, hence our decision to launch this National Campaign Against Fake News.

"The essence of this campaign is to sensitize all Nigerians to the dangers posed to the peace and security, and indeed the corporate existence of Nigeria by the phenomenon, and the fact that each and every Nigerian has a role to play in curtailing the spread of fake news.