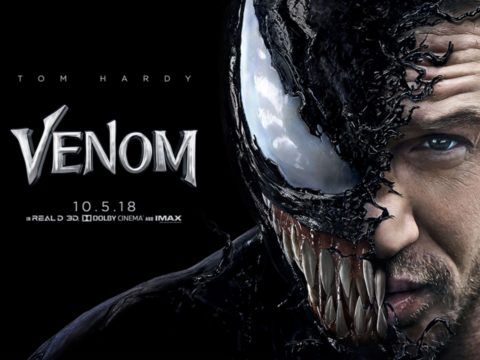 Are you bored with staying inside? Need a reason to get out for an action-packed thrill ride? Are you about that Marvel life?
Today, check out the top five reasons you should go see Venom when it swings into theaters, I don't know when it'd hit Nigerian cinemas though.
1. THE CAST
One reason Venom should be your go-to movie next month is because of the star-studded cast. It's not enough to have blockbuster actor Tom Hardy take on the role of Eddie Brock but you're also getting the amazing graces of Michelle Williams, Riz Ahmed, Scott Haze and Reid Scott soaking in plenty of camera time.
Details currently remain slim but there's plenty of buzz about Jenny Slate, Woody Harrelson, Sope Aluko, Michelle Lee and Mac Brandt coming through with undisclosed roles. If you're looking for a stellar cast, look no further than that line-up
2. THE PLOT
Journalist Eddie Brock is trying to take down Carlton Drake, the notorious and brilliant founder of the Life Foundation. While investigating one of Drake's experiments, Eddie's body merges with the alien Venom — leaving him with superhuman strength and power. Twisted, dark and fueled by rage, Venom tries to control the new and dangerous abilities that Eddie finds so intoxicating.
If you're big into the Venom comic books and of course those epic Spider-Man movies and cartoons, there are some hopes we might see Carnage and hopefully even a Peter Parker cameo.
3. THE GENRE
The third reason you should go see Venom on October 5 is because of the overall genre. It's going to be well over six months before we get to see how The Avengers: Infinity War sequel goes down and almost just as long before Captain Marvel arrives in theaters. Until then, it's all about soaking in the nerdcore comic flicks you can get your hands on.
Venom is going to satisfy those needs at least for the next few months, easily getting us into 2019 most likely with tons of replay value and a big Digital HD and Blu-ray release just in time for the holidays.
4. THE DIRECTOR
The forth reason Venom should be a must-see for anyone interested in action-packed movies is because director Ruben Fleischer is due for a major blockbuster.
5. IT IS MARVEL
I cannot be only one who has the tradition of seeing every marvel production at the cinemas. I like to contribute to their investment because make everything perfect.