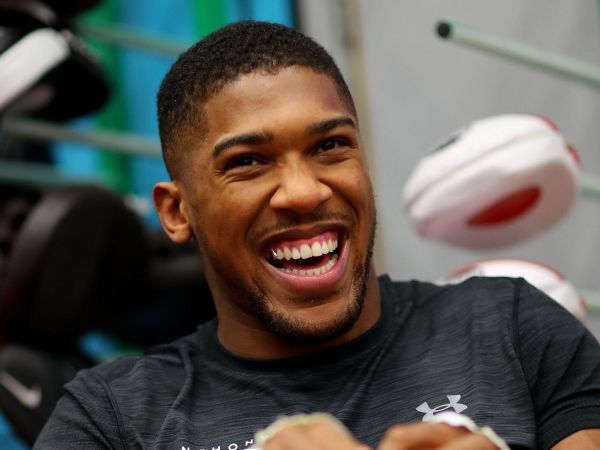 Anthony Joshua believes he has 10 years to cement his boxing legacy, and victory over Alexander Povetkin is part of his journey to greatness.
For all the talk of a future unification bout against Deontay Wilder and the threat posed by his Russian opponent, AJ said he is only concerned by how far he can go.
The heavyweight champion told Sky Sports: 'It is not just about Povetkin and Wilder, it's me and my legacy and what I can reach.'I feel like I am back in a tournament like it was in the amateurs or the Olympics. I have to get past people like Povetkin to fulfill my legacy.'
Joshua and Povetkin posed for pictures together at Wembley Stadium after the press conference and there was no animosity between the pair as they smiled and shook hands.The IBF, WBA, WBO and IBO champion also revealed he has changed his mentality regarding opponents.'I used to concentrate on the opponent and always worried what was next,' he added.
'I used to box within myself, stopped expressing myself and fulfilling my potential to become a great world champion. 'It creates a great fight, I can't afford to get beat and Alex thinks he can beat me. '
Povetkin was respectful in his succinct responses and acknowledged the calibre of fighter he is stepping in against on September 22. 'I want to say that Anthony Joshua has proved that he's one of the strongest fighters here – and I'm excited about this fight,' the 38-year-old said.
'This fight will be all about experience.'I know Anthony Joshua is a world champion, but we have been training hard for this fight.'Head of Matchroom Boxing Eddie Hearn also underlined the serious threat posed to Joshua's record in the upcoming bout. 'The pace that this young man is moving at and the challenge he is wiling to take is fantastic for the sport of boxing,' said Hearn.Anthony Joshua wants to create a legacy and the only way you do that is by fighting real fighters,' he concluded.