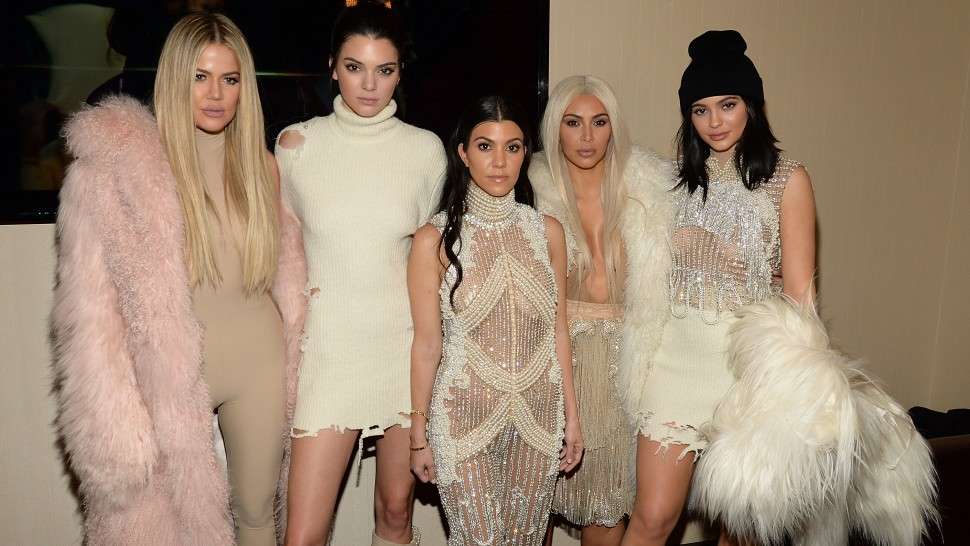 The Kardashian-Jenner clan are stripping down!
The sisters — Kylie Jenner, 20, Kendall Jenner, 22, Khloe Kardashian, 34, Kim Kardashian West, 37, and Kourtney Kardashian, 39 — posed for Calvin Klein's Fall 2018 campaign a few months ago, but a new image from the photo shoot was just released on Wednesday.
In the black-and-white snap, a very pregnant Khloe — she welcomed her daughter with boyfriend Tristan Thompson, True, in April — is cradling her big belly while wearing a white sports bra and briefs along with an unbuttoned collared shirt falling off of her shoulders.
"I think we were all a little more comfortable this time around, but shooting for Calvin Klein is always a little bit intimidating," Khloe admits to People. "Shooting in underwear at eight-and-a-half months pregnant is even more intimidating."
Further recalling the photo shoot, Khloe adds, "I stayed calm though, and it was nice to laugh a lot with my sisters throughout the whole day."
On Wednesday, Khloe took to Twitter to share a behind-the-scenes look from the photo shoot. "Being in a @calvinklein campaign has always been a dream but shooting one with my sisters & being almost nine months pregnant is so special to me! I have this magical moment in time documented forever," she wrote alongside a video of her having fun during the shoot. "Thank you Hrush for capturing these moments! I miss my tummy now ???? #MyCalvins."
While Khloe and Kim posed in their underwear, the other three sisters added denim items to their ensembles. In the photo, Kendall is completely covered in a fully buttoned denim shirt and boot leg jeans, while Kylie sports a similar shirt and pants, but opts to wear her shirt open so her white sports bra is fully visible. As for Kourtney, she also rocks the dark wash, bootleg jeans, but foregoes a shirt altogether in favor of only a white sports bra.
The family had a bit of a baby boom this year with the birth of Khloe's daughter, True, Kim's daughter, Chicago, and Kylie's little girl, Stormi, and the ladies are making sure that their babies spend plenty of time together!