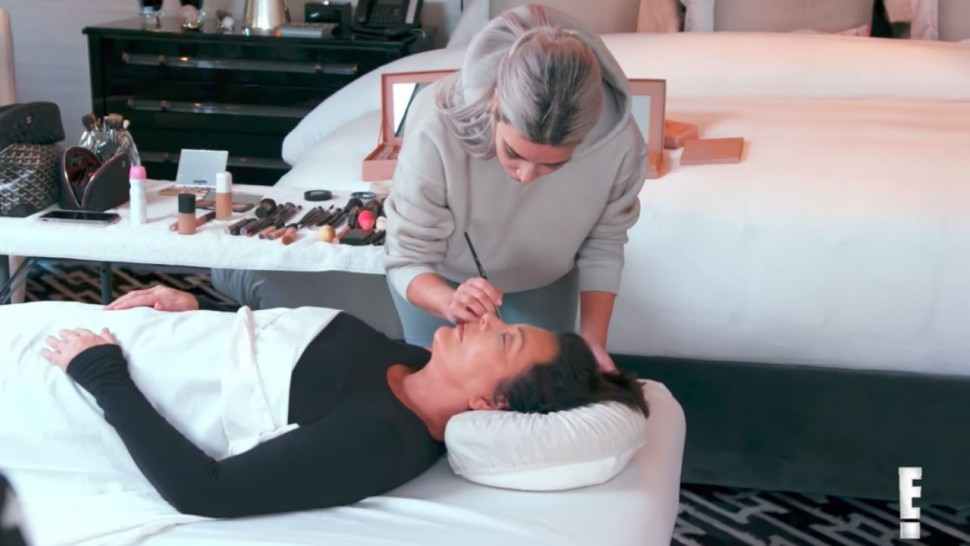 Reality star, KKW Beauty creator and mortician?
Kim Kardashian West is ready to put her makeup skills to the test in a new sneak peek clip for Sunday's Keeping Up With the Kardashians. In the episode, the mother of three tells viewers that she's always wanted to test out her skills on a dead body. 
"I feel like I know makeup very, very well and before I even go to a professional I wanted to test it out on my mom," she explains. "Obviously, my mom's not, like, a substitute for a dead body, but I just am so used to only doing makeup on myself, I need someone to test it out on."
In the clip, Kim catches momager Kris Jenner when she's just stepped out of the shower, asking to do her makeup. "I'm a mortician, and I need to practice," she tells her mom. 
"I'm not dead," Kris replies. "I know I look pretty bad, but I just got out of the shower."
As Kim continues her antics, Kris asks, "Are you OK?" but still agrees to lie down and let her daughter test out her work. 
"Who knew that her love of makeup would take her this far?" Kris quips in an aside interview. 
Kris later gets her revenge on Kim.