Lionel Messi said he was surprised to see Cristiano Ronaldo leave Real Madrid and believes the club is weaker as a result. The Argentine and Ronaldo have been rivals for top European and world individual awards in recent years and the competition between the two was heightened by them playing for clubs who are arch-enemies. That changed this summer though with Ronaldo heading for Juventus.
"Obviously they (Madrid) are one of the best teams in the world, they have great players and squad but yes the departure of Cristiano from the squad makes them less strong," said Messi.
"It makes Juventus a clear favourite to win the Champions League due to the squad they had before and now with him on top. I was surprised by his decision, I did not think he would go from Madrid nor that he would go to Juventus. There were so many teams and I heard less about Juve but it is a very good team."
Messi admitted that Barcelona will be looking to improve this season in the Champions League.
"It is necessary because we have had three years where we have gone out in the quarter finals and the last was the worst of the lot due to how it happened," he explained.
"We are concentrating on this because it is possible, we have a squad where we can fight for this competition.
"In other years the Champions League evaded us, in the Guardiola era with Inter and Chelsea, due to small details. Each year the competition is more even with clubs investing more money to compete and bring in players. The two Manchester clubs, Chelsea, Madrid, us, PSG and several Italian clubs."
He admitted that he still gets very frustrated at losing.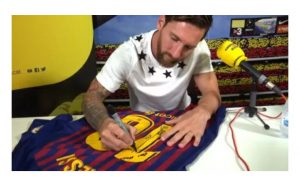 "Since my first son was born I try to look at it differently but still I suffer a lot when I lose and it is difficult for me to lift my head," he continued.
"The dressing room always want more, to speak to me you need to wait several days. Thiago understands and knows me…after a defeat we don't talk about it, he knows not to talk about it.
"I like to win at everything and at times I left my children win.
"Here I have everything. I came here at 13 and it is my life. It is the best club in the world and the city if it is not the best then it is one of them. My children have been born in Catalonia and I have no reason to go."
Messi was also happy with the signings that Barcelona have made this summer.
"They are very good, those that have come in, in particular Arthur has surprised me as I didn't really know him," Messi revealed.
"He is very similar to Xavi as he likes to have the ball, play short, not lose it and is very solid. He surprised me but I like them all. Arthur has the style we have here, he understood quickly in training.
"Barcelona fans like players who are good with the ball at their feet and we are used to having possession. I think that players like Arturo (Vidal) are important to have in the squad, football is about tactics and the physical side."
Finally looking ahead he does not plan to leave Barcelona and after retiring he is not yet sure what he will do.
"I can't see myself playing at 40, I haven't thought about what to do when I stop playing, I don't know," he stated.
"I think of where I am now, in the years that I can continue playing and nothing more. When the moment comes then I will find something that I want to do, at the moment I am only thinking of what will happen until my contract finishes. Then I will talk to the club and decide what to do.
"The club appears to be happy with the youth team and the players coming through. My idea is to remain here at Barcelona, my kids have their friends and school, we are thinking about that more than anything."