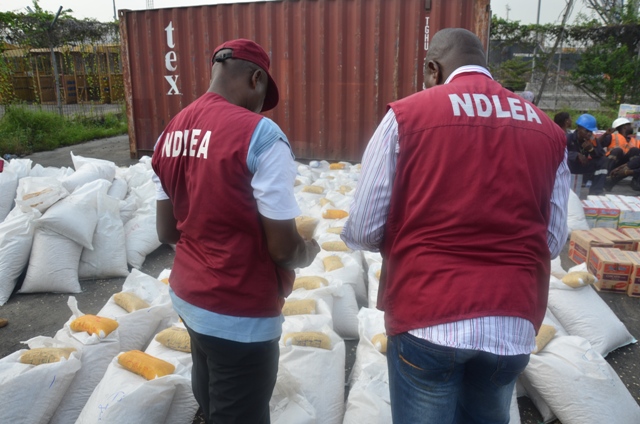 An official of the Lagos command of the National Drug Law Enforcement Agency, has reportedly killed a 22-year-old woman, identified simply as Baraka.
According to reports, Barakat was shot during a raid on Alasia community in the Ajah area of the state where she lived.
The anti-narcotic officials were said to have arrived the neighbourhood last Saturday in a bid to arrest youths allegedly smoking and peddling Indian hemp. The arrested youths reportedly resisted arrest, hauling stones and bottles at the NDLEA personnel.
In a bid to curb this act, the officials shot indiscriminately which led to a stray bullet hitting Barakat.
A source, who disclosed the incident to Saturday PUNCH, stated that the shooting created panic in the community.
He said, "An NDLEA team raided some black spots in Alasia last Saturday in the evening to arrest drug peddlers and smokers. As the suspects were running away, the NDLEA personnel continued to pursue them. At a point, they started throwing stones at the officials, who resorted to shooting.
"There was confusion everywhere. A stray bullet hit a woman called Barakat and she died on the spot. She was in her compound. The NDLEA operatives fled after the woman was felled by the bullet. It took the intervention of the police to restore peace to the community because angry youths wanted to avenge the death of the innocent woman."
A relative of the deceased, who spoke to Punch said;
"We had a meeting at the NDLEA office on Wednesday and the agency promised to investigate the incident. But the family is not interested in pursuing any case. The father of the deceased was not around; he said he was not ready to drag the case further," the relative, identified only as Kehinde, added.
Kehinde also gave the phone to a family member, who corroborated his (Kehinde's) remarks on the family's stance on the matter.
Spokesperson for the state police command, CSP Chike Oti confirmed the killing saying; "The police received a distress call from the community that some youths engaged men of the NDLEA who were on duty in the neighbourhood by throwing bottles and weapons at them. A stray bullet hit one Barakat aged 22 and she died on the spot.
"A police patrol team intervened when the NDLEA officials were attacked in their office and normalcy was restored to the area."