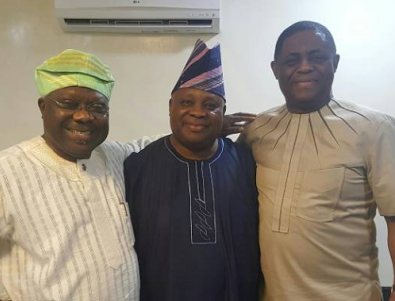 The governorship candidate of the Social Democratic Party, SDP, in the just concluded election in Osun State, Senator Iyiola Omisore, has finally revealed why he decided not to support Senator Ademola Adeleke of the Peoples Democratic Party, PDP.
While speaking in Osogbo yesterday during a meeting with members of the SDP from across the state,he said he opted to support the candidate of the All Progressives Congress, APC, Alhaji Gboyega Oyetola, in the rerun election in the state because the leadership of the PDP in the state said they did not need his support.
Omisore, Adeleke and Fani Kayode
He disclosed that former Vice President Atiku Abubakar wanted to come and discuss with him before the rerun when he came to Osogbo but he (Atiku) was prevented from coming by the leadership of the PDP in the state.
Omisore said,
"I want to adopt all what Dr Farounbi said. We gave them (APC and PDP) our manifesto.
"We dwelt on payment of arrears of salaries, pensions and gratuities, on local content, employment for our youths and the reorganisation of the educational system, among others.

"We went to negotiation with a clear mind that Osun must be free and thank God our coalition has produced a new future for the state.

"In addition to what Dr Faroumbi said, the National Chairman of the APC, Adams Oshiomole, said clearly that our discussion was devoid of any financial commitment. He said they were ready to work."