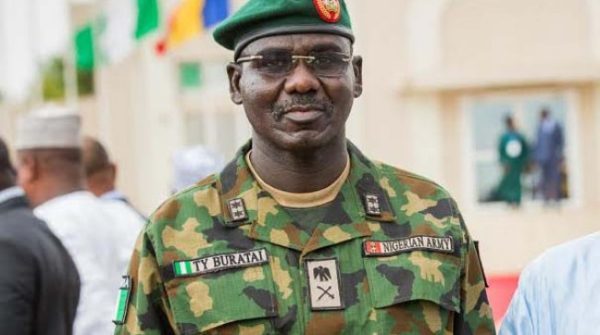 Officers with the Nigerian Army continue to react to the death of their colleagues after the attack on the Metele Base by Boko Haram insurgents.
Over 100 soldiers were reportedly killed in an attack for which the Islamic State in West Africa Province (ISWAP) has claimed responsibility.
A video obtained by AFP on Sunday had shown Nigerian soldiers lamenting their neglect by the army generals.
Speaking to The Cable, soldiers who asked to be kept anonymous asked that President Muhammadu Buhari provide ammunition.
Most of our people dropped their arms and pulled off this dirty uniform… the bodies of our troops littered everywhere but we watched the news and heard army headquarters saying troops repelled the attack.

The army chief and other generals only sit in Abuja and lie to Nigerians whereas soldiers are being killed on daily basis. We lack manpower but nobody is telling the president the truth.

The president should demand the whereabouts of all the soldiers deployed to Operation Last Hold to fight Boko Haram under Major General Abbah Dikko. The answer is, all of them have been crushed by Boko Haram and their new weapons and arms are what the Boko Haram is using to attack us. Please, help us tell Mr President that the service chiefs are just lying to him.
Another soldier discussed how they ran out of ammunition and were overpowered by the terrorists.
Our commander, Lieutenant Colonel Sakaba told us to prepare for battle after being briefed by one of our soldiers whose duty is to monitor what is coming from distance.

We engaged the terrorists for over 40 minutes before we ran out of ammunition on that very Sunday. They were well equipped and armed with rocket propelled grenades, more than 12 gun trucks mounted with anti-air craft shooting at us from a long range.

Some of us ran out of bullets and they overpowered us, we fled but those who could not escape were slaughtered like chicken.

Our formation is surrounded by big trenches and barbed wires, which became a trap and made it difficult for them to escape. I watched many of my fellow friends die helplessly in cold blood.