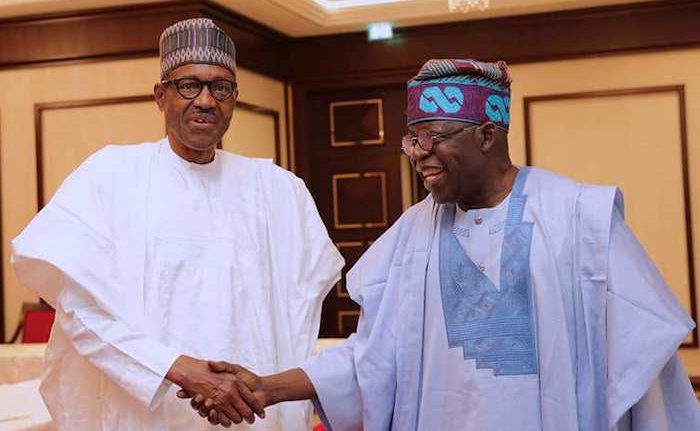 President Muhammadu Buhari and the National Leader of the All Progressives Congress (APC), Senator Bola Tinubu, were on Thursday night locked in a meeting in Abuja, over Tinubu's withdrawal of support for the second term aspiration of Governor Akinwunmi Ambode, ThisDay reports.
It is understood that with Buhari's last-minute intervention, Ambode would likely secure Tinubu's approval to seek re-election in 2019 on the platform of the ruling APC.
There has been controversy over the political future of Ambode after Jide Sanwo-Olu and former Lagos State Commissioner for Works & Infrastructure, Hamzat obtained nomination form, to challenge Ambode in the APC primaries scheduled to hold on September 19.
All chairmen of 20 Local Government Areas (LGAs) as well as 37 Local Council Development Areas (LCDAs) in the state, have signed Sanwo-Olu's governorship nomination form, claiming that they were acting on Tinubu's instruction.
Sources close to the power play in Lagos, however, doubt that the meeting with the president would provide reprieve for Ambode as Tinubu's options are said to be limited.
Tinubu's close associates are reportedly telling him that having showed his hand, it was better for him to finish what he has started, fearing that should he be persuaded to back pedal and support Ambode, it could be costly.
"Ambode could play the good boy now, and deal with Tinubu and his supporters once he wins his second term. He would have nothing to fight for or lose again.
"Tinubu is not likely to be persuaded by Buhari's fear that an Ambode defeat could backfire. He would assure them that he could handle the situation without any adverse consequence for the president's election and APC's fortune in the state," a source said.