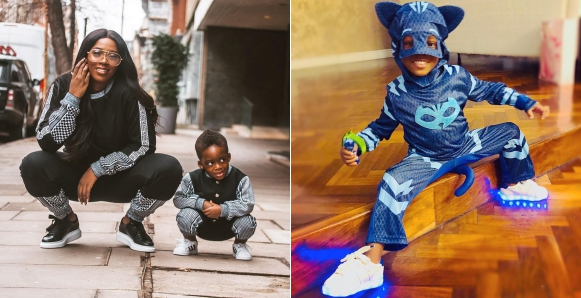 Tiwa Savage may be trending for her sultry performance in her bestfriend, Wizkid's video, however, her son, Jamil is where her heart lies.
She shared a photo of Jamil in his halloween costume, revealing the stress she went through to get the costume in the UK and bring it down to Lagos at the last hour.
She wrote,"My baby asked me what he was going to be dressed as for Halloween and I said mummy is going to dress you up as a pumpkin and he says no mummy I don't want to be a pumpkin I want to be Cat Boy from his fav cartoon #PJMasks.
"So off I go to my personal person @fenellz In the UK to search high and low for Catboy as it was very popular and high in demand and of course she found one last minute and my dear Grace flew into lagos last night #perfecttiming as she helped us bring JamJam's costume.
"So he wakes up still sad that he was going to be a pumpkin but when I opened his costume he was soooo happy he started shouting and screaming with the sweetest smile that will melt your heart, we woke everyone up in the house to show them his super powers .
"Yes it was stressful getting the costume to lagos in time but I will ALWAYS go through this to make my JamJam AKA CatBoy smile like this.
"Lol look at his little tail as well  he got the light up shoes and PJ masks watch to match.
"JamJam swagging on 'em ".