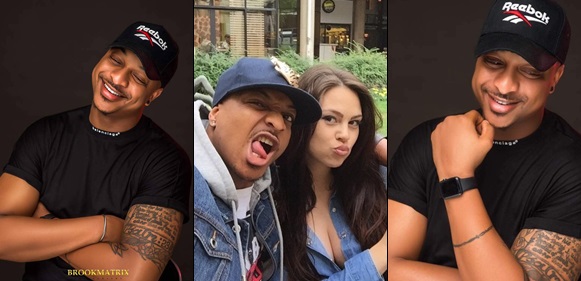 There have been rumors online that IK ogbonna's marriage is facing some challenges. The speculations started after his wife, Sonia Morales, removed his name from her bio on her Instagram page and the actor posted a caption that read, "Everyday opens up doors to new blessings. husbandmaterial50000000yards," suggesting that he was single. Later on his Instagram page, the actor, however, insisted that his caption was not suggestive in any way. He wrote, "My caption is not suggestive in any way. Stop misinforming people. Somebody cannot write caption in peace without thinking how overfed adults would take it. My name is MR IK OGBONNA. Everything is stew here, thanks."
In a chat with Saturday Beats, the actor noted that his wife was an intelligent woman and that he gave the credit of their successful marriage to her because it was difficult being married to someone like him due to the nature of his job.
"My wife is gifted; she is a very intelligent woman. You cannot sit down with her and not learn something; she is very expressive, she expresses herself regardless of what people think or say. It takes two people to make things work; on her own part, she does her best and she will keep doing her best. Being married to someone like me is very difficult because my career takes a toll on me. I am hardly around and available to give her enough attention as a woman, but I will keep trying.
"Most of the time, for a marriage to really work, it takes two people, but the woman has to be patient. So far so good, she has been doing a great job and I will give her all the credit.
"Any celebrity out there hardly has time because we work round the clock but whatever time I have no matter how little it feels, I spend it with my family. It is within that little time I go out with them and take pictures with them; that is when I go for events with them. I go to events with my wife, not to flaunt her but because in the little time I have to be in that event, I'll rather be with her than go alone. It is never enough but I will always like to give it as much as I can," he said.
Ogbonna accused some of his followers on social media platforms of not having genuine love for him, saying, "Some followers are there to hate, some get inspired, some are even there to do 'eye-service', and some of them are there as the press, just to pick things to gossip about. I have had a lot of people that come to me and tell me that following me has inspired them greatly; these types of feedbacks give me joy."
"In my little way, I try to show people how to love and treat their family and be better people. I might not be right all the time with the things I express, but people can still learn from them," he added.
Ogbonna also talked about the roles he enjoyed playing the most, saying it was challenging for him to play feminine roles in movies.
"My best movie roles are the challenging roles – disguise – where I had to act as a woman. It looked like it would be difficult but surprisingly, it turned out well. I play those roles not considering people's opinions because at the end of the day, you can't please everyone. You have to do the needful as a professional. I don't care what people say about me because they don't put food on my table, they have nothing to add to my life."
The entertainment industry is used to celebrities flaunting their wealth and material possessions on social media platforms, but for Ogbonna, it is not something he likes doing.
"I don't flaunt my material belongings because I feel that if I do, it means I am giving that brand free publicity. If I flaunt the expensive brands I wear, it means I am giving free publicity to a brand that didn't pay me for that; after I paid so much money to acquire the item.
"Material things can diminish at any time, it is not what I stand for; I stand for impacting people's lives' positively. I do this through some of the messages I post on my social media platforms. The greatest legends in life never showed off material things, like Fela Kuti, Nelson Mandela and Michael Jackson; they were busy thinking of how to change the world rather than to be chasing material things," he said.
The actor has maintained a steady physique and flawless skin over the years and when he was asked about how he maintained his physique and flawless skin, he attributed his good looks to his parents' genes. He equally added that he tried to maintain a healthy lifestyle by doing things in moderation.
"I got my good looks from my mother and father; they have very good genes. I hardly have skin irritations. I don't react to things easily; my skin stays the way it is. I can stay a year without using body cream or lotion or whatever. I got my flawless skin from my mum, she has a flawless skin.
"I got my physique and height from my dad; I have not worked out in the past three years and my body is still very fit. I give credit to my parents. On my part, I just try to control what I eat and drink. I don't smoke or drink in excess. I make sure I take multivitamins and lots of water. I try as much as possible to take a break from alcohol.
"If I notice I drank a lot in the past weeks, I will probably not drink in the next (few) weeks. If you have too much alcohol in your system, it makes you look old; it does its own part in ruining the skin," he said