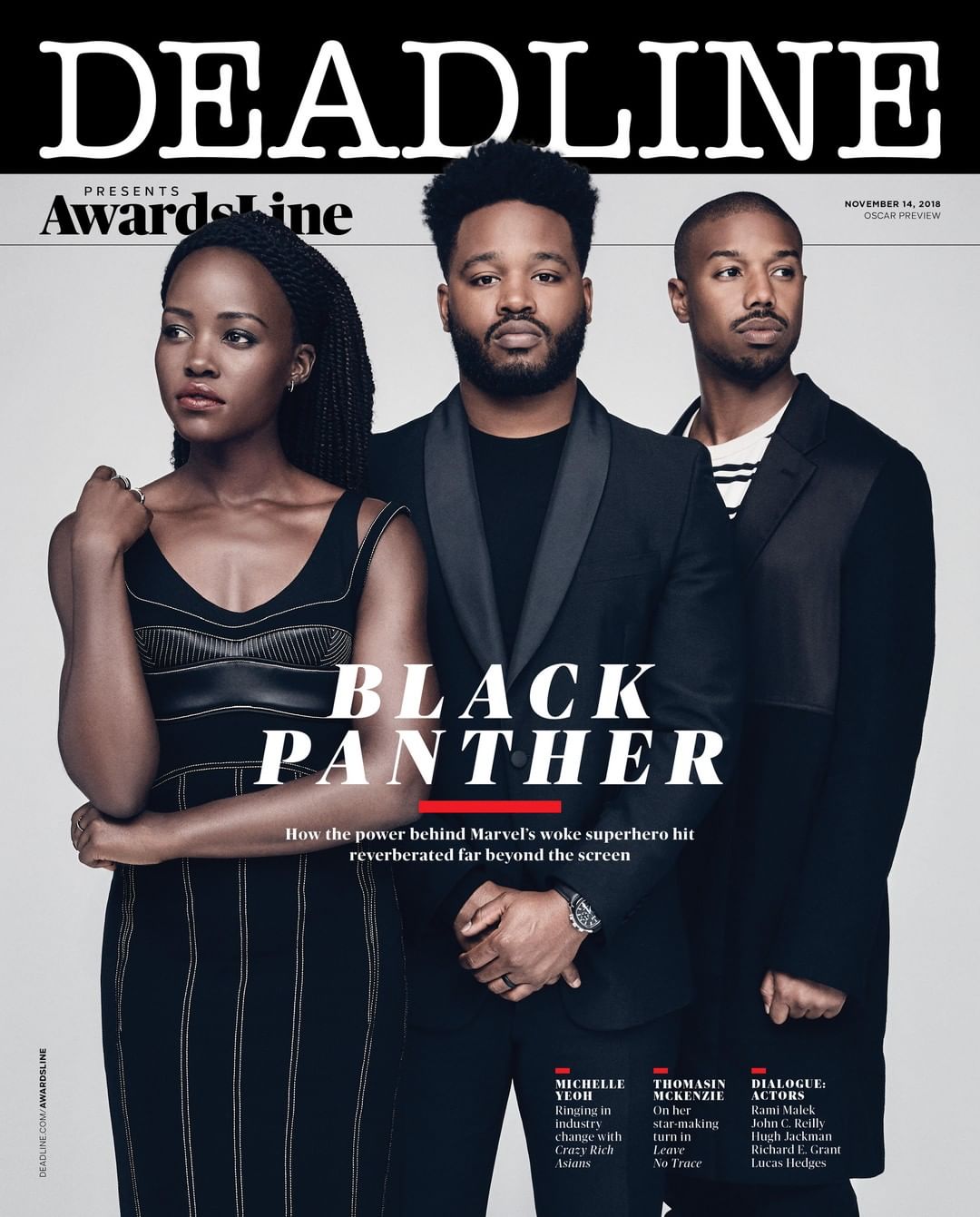 Stars of Black Panther, Lupita Nyong'o and Michael B. Jordan as well as the director Ryan Coogler cover Deadline's Latest Issue
Read excerpts below:
Ryan on what the biggest opportunity and challenges of the film was: A lot of the challenge was personal. I had only done two feature films so far and never worked with a budget this large. Beyond the subject matter, just that alone is enough to stress you out. Then, a studio that hadn't really had a film that didn't work in a business and critical sense, and not wanting to be the one who failed in trying to get the theme right.
Lupita on the impact of consuming culture that largely excludes her: It draws the world closer to you, but what it also does is it estranges you from yourself because you do not have the opportunities to see yourself reflected on screen. It breeds this idea that to be something else is better than to be yourself. So you're striving and aspiring for things that are totally out of your grasp. A film like this was so important and so vital for me to be a part of and to commit to because it was offering a mirror that I just never had.
I went to Nigeria in May, shortly after the film came out. Black Panther was still in the cinema. That longevity doesn't happen on the continent. It's not our primary source of entertainment, because watching films in cinemas is extremely expensive. But people were going in droves. I met people who went with their mother, their grandmother, and their children. It was totally bringing in different generations.
One man in his 60s turned to me and said, "I am so mad because I didn't know I needed that; a reflection of myself." It was such a powerful validation to so many, including me, who worked on it. What I think then it does for people who are not Black and who are not African is that it offers them the opportunity that Jackie Chan and Steven Seagal offered me. To see we are not any different. So it's so important to have that cross-pollination and that's what this film did.
Michael on keeping his character from being a one-dimensional bad guy: I can't take credit for that. It was all the research and work Ryan and Joe Robert Cole put into crafting this character, understanding the pain that we have because we are African-American and we're here. Erik became a product of his environment, he's what circumstance and his country made him. As a kid he heard stories of Wakanda, this place he's never been to, that is in his blood, but which he doesn't even really know exists because he is in Oakland. How could Wakanda exist for someone like me? 
That hope being taken away from him at a very young age sent him down a path of where he decided to become the best version of himself under his circumstances, and he's going to find this place by any means necessary. If you have empathy for Killmonger, it's because you understand his motive. You understand how much pain he has in this heart, and that he wants the injustice done to him to be heard. He doesn't care if he dies. He had to make an impact on T'Challa. At the end of the movie, you see him go back into Oakland and buy those buildings. So Killmonger did win, in my eyes. It wasn't about living or dying. It's about just getting the point across and having a conversation, one that has never been had on screen before. About what it means to be African, seeing what African-Americans have been through.
I go through that same type of pain. I know what oppression feels like. I know what that is. Maybe we're not so different. I think that's one of the biggest takeaways from the movie. To bring some humanity to somebody who was constantly looked at as not human.