Raheem Sterling was the most experienced name on England's team sheet against Spain – and also the most scrutinised figure in a side brimming with youth.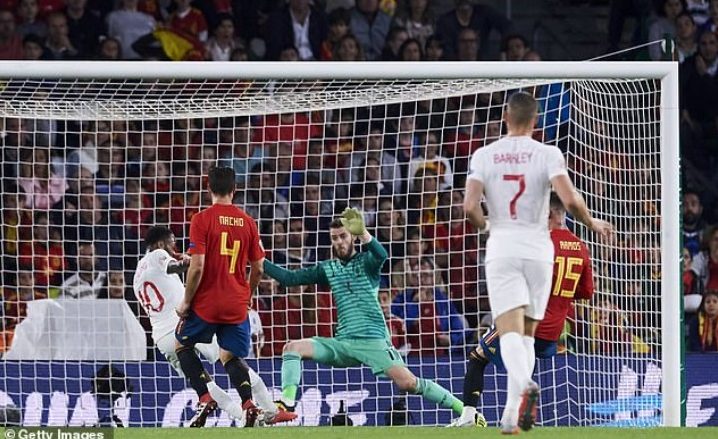 From an inauspicious beginning, the footballing world watched intently and saw how his 46th cap turned out to be his finest evening of national service…
 TEETHING TROUBLES
The opening two shots were horrible. One clattered into the advertising hoardings with a thump; Jordan Pickford punched the other dismissively away. This was Sterling's start to the drill England's attacking players were asked to do before their warm up finished. As Harry Kane, Marcus Rashford, Ross Barkley, Harry Winks and Eric Dier all ripped shots past Everton goalkeeper Pickford, the Manchester City forward ran his hands over his head in exasperation. 
Round two wasn't much better. Another one into the advertising hoardings, then an effort that rolled almost apologetically against the post. Maybe Gareth Southgate had a point when he said on Sunday that it was 'a confidence thing' with Sterling. Think of a golfer standing on the green with 'the yips'. Yet before he could skulk back into position and start stewing on his wayward ways, Allan Russell – England's striker coach – took Sterling to one side. Russell pointed at him, moved his hand sharply left and right and then reassuringly tapped him on the shoulder.
 Whatever Russell said worked. Round three? Right foot, left foot; bang, bang. Round four? Same again. Two crisp, clean strikes that screeched beyond Pickford. Sterling left the pitch with a spring in his step and returned shortly after ready to make up for lost time.
 LIFT OFF
Before he boarded the team bus in Croatia on Friday night, there was one thing Sterling said that struck a chord. The sentiments were potentially setting him up for a fall but, rather than keep his counsel, he went ahead and said it anyway. 'The goals will come – I'm sure of that,' he stressed. 'I believe in myself.'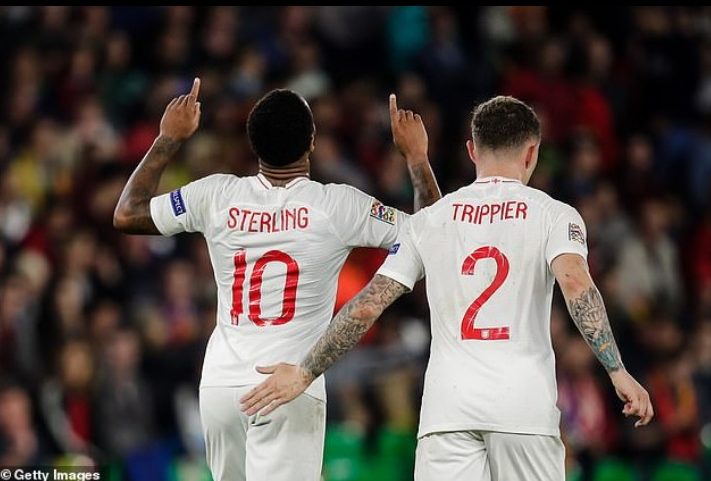 It would be ridiculous to suggest this game was now or never but the importance for Sterling to do something significant was inescapable. Again, though, he got off to a poor start when, in the third minute, he became the filling in a Sergio sandwich, as Busquets and Ramos sent him sprawling. His next involvement, though, was the moment the tide turned. As Ramos came to apply pressure in the sixth minute, Sterling's dexterous back heel into Kieran Trippier's feet momentarily took Spain's captain out of the contest. It was the equivalent of a thumping return of serve. Sterling was ready.
GOAL-DEN BOY
Of all the numbers that had accumulated since Sterling last scored for England on October 9, 2015 – the 1,102 days, 1,810 minutes – one figure made no sense. It was four – the amount of shots on target Sterling had managed in 27 matches. Four shots? He can have that many in 90 minutes during a routine Premier League game. For a man who only had Mohamed Salah, Kane, Sergio Aguero and Jamie Vardy ahead of him in the scoring charts last season, four shots raised the question what Russell does with them at St George's Park.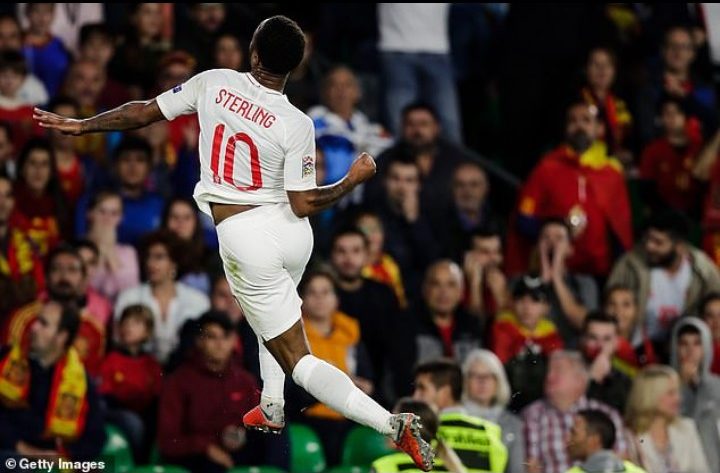 Then, wonderfully, in the 16th minute, everything changed. A brilliant move, with passing and vision and deftness of touch, ended with Sterling scurrying through the middle. His strike was everything you would expect from a £50million player – accurate, firm and unerring.
 For another goal to arrive so shortly after showed what an injection of confidence can do. Sterling has not been as bad for England as some of the pictures that were painted of him yet, equally, he needed to do more. He's up and running again. Nights such as this must become the norm.