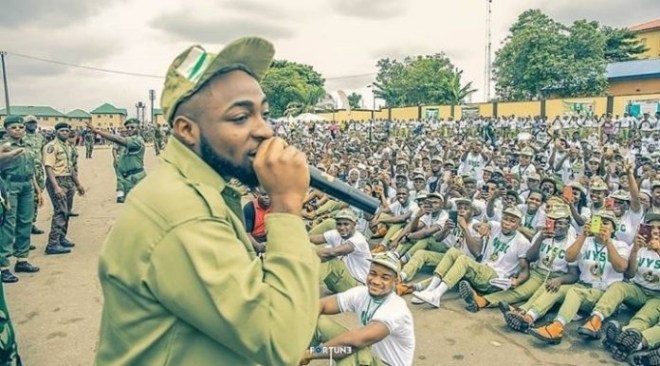 The National Youth Service Corps has sanctioned popular artiste, David Adeleke, aka Davido, for violating camp rules during the mandatory three-week orientation camp, Saturday PUNCH has learnt.
Top sources in the NYSC told a Punch correspondent that for "absconding" from the camp during the orientation camp, the Corps had to "dekit" the artiste, which brought to an end his participation in the 2018 Batch 'B' Stream II in Lagos State, where he had been posted.
The source said, "
The NYSC was constrained to "dekit" Davido for violating the rules guiding conduct and activities in the camp. As a matter of fact, he absconded because he was away from the camp without permission. That prompted the Corps to issue him a query which was sent from Abuja. So, he is no longer a serving corps member."
The artiste, Punch gathered, violated many of the scheme's regulations
Other NYSC bylaws violated by Davido include bringing vehicles into the orientation camp; disclosing official information; engaging in private practice; taking part in partisan politics and reporting late for duty.
However, it was also gathered that he may be remobilised for the scheme.
While replying to a post on Instagram during the week, the artiste had said that his NYSC programme had been terminated. He later deleted the comment from the post made by a friend.