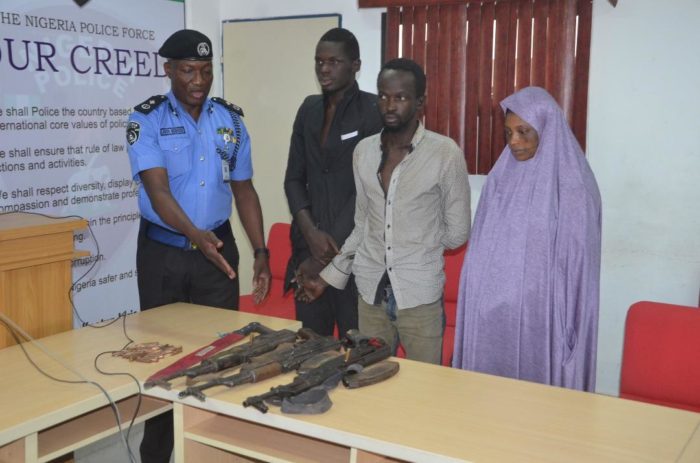 The police have arrested a woman, with the name, Hawa Yinusa said to be the leader of a vicious gang specialized in kidnapping and robbery in Nasarawa-Abuja-Plateau axis.
Hawa was apprehended along with two other suspects, Nura Dahiru and Buhari Hamisu – one other gang member was killed in the exchange of fire with the Inspector General of Police Strike Force.
Police revealed they recovered from them three AK47 Rifles, 38 bullets and a Honda Hennessy car belonging to one of their latest victims, a businesswoman identified as Aisha Haruna.
Hawa, from Masaka in Nasarawa state was arrested when she went to Aisha Haruna's bank, owner of the Honda car, to withdraw Aisha's money.
The police said Aisha was killed by the gang and her body abandoned in the bush at Uke town in Nasarawa. The bales of clothes in the car were stolen as well.
"Hawa Yinusa further went to court and swore to an affidavit claiming that the victim was her sister before she died and was in the process of withdrawing from the Bank about One Million Naira (N1,000,000.00) belonging to the victim before she was arrested," said the police spokesman Jimoh Moshood.
"The suspect, Hawa Yinusa and her gang have carried out several kidnappings between Abuja, Nasarawa and Plateau States. They have also been involved and confessed to other forms of kidnappings of innocent people, collecting their ATM Cards and withdrawing their money before releasing them. Some of their victims have come forward to the Police investigator and identified them.

"They will be charged to court on completion of Investigation", the police said.
– NAN